---
Performance - London Winter Run 2022
Sun, 13 Feb 2022
We love a road-side singout! Despite the early start and cold weather, it is always a rewarding experience boosting morale and encouraging the runners to keep on going, and this singout was no exception. It was also another opportunity to use our personal amps. Outdoor singouts can be challenging, but with our amps we could be heard before we were even seen!

It's great that there is a variety of entertainment arranged along the route, and we could see the delight and appreciation on all the participants faces, from the elite runners to those bringing up the rear.

We also couldn't resist a photo opportunity modelling our capes "Call the Midwife" style on the row of hire bikes next to us. Fortunately the only thing we had to deliver on the day was the entertainment!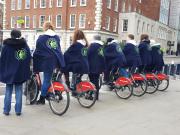 View photos