---
Performance - Pinner Welcome Back Market
Sun, 10 Oct 2021
We love singing at local events and Pinner's Welcome Back Market weekend in October was no exception. The High Street was full of stalls selling delicious food and crafts, kids rides and entertainers and it was bustling with local residents.

Being a fairly noisy outdoor event, it was the perfect opportunity to get a bit techie and try out our recently acquired personal amps and it was also a great opportunity for a first singout for four of our new associate members, who did an amazing job - Well done ladies!

We sang 2 short sets for the shoppers and, as ever, had a very appreciative audience stopping by to listen and some interest from a couple of potential new members too..

As you can see from the photos we all had a great time and hope everyone else did too!

---
Performance : Regents Park, Bandstand from 12:30pm
Sun, 15 Aug 2021
A SUNNY SUNDAY IN REGENT'S PARK!
Only 2 weeks on from our return to public performance, we were all very pleased to be singing out again at the Bandstand in Regent's Park as part of their Summer Music Festival and for many of us, it was our first visit into the Capital in a very long time!

The bandstand was the perfect place to perform at, a beautiful setting with families and groups of friends having picnics, deckchairs set up and boats rowing past. We had a very appreciative and enthusiastic audience and lots of passers-by stopping to listen too.

With a 2-hour set to fill, the challenge was on, especially with a slightly limited repertoire (due to only recently returning to in-person rehearsals), but everyone rose to the occasion admirably – particularly Debi who did a great job as MC in addition to directing and even teaching the audience a thing or two about barbershop harmony, and also a special mention for Sharan, one of our newest recruits, who was taking part in her first chorus singout!
As you can see from the photos, we had a great time and we also got lots of lovely feedback from the audience.
---
Pinner Village Gardens - Summer Family Event
Sun, 1 Aug 2021
The chorus were delighted to be invited to sing at the Pinner Village Gardens Summer Event on 1st August. It was so good to finally be performing in public again after 19 months, and as well as contributing to a worthwhile local cause, it was also the perfect way to ease ourselves back into the swing of things, with a couple of short sets of upbeat songs in an informal and relaxed setting.

There was a great turnout to the event and the sun shone warmly as we started our first set. Debi even got some of the audience clapping along with one of our new songs, Wake Me Up!

It was also the first opportunity for us to show off our new walkout costume, including scarves hot off the sewing machine by the lovely Sheila, and we couldn't resist a recruitment opportunity with Rhoda and Rosh disappearing between songs to hand out leaflets to the audience!

However, all good things come to an end, and half -way through the last song of our second set, One Fine Day, the rain came – a few drops at first, but quickly turning to a downpour, bringing an abrupt end to the show!

All in all, it was a fantastic start to our return to singing out. We all had a brilliant time as you can see from the pictures and we can't wait for our next performance at Regents Park on the 15th August!

Don't Stop Pinner Village Gardens



---
A Capital Christmas
Sun, 15 Dec 2019
A fabulous evening of joyful music to get us in the mood for Christmas! Carols and Christmas songs, with audience participation and a Can-Can finale! A fantastic fundraiser for our charity of 2019, The Catholic Workers' Farm.

Javier and Hannah from Cygnus Trio joined us for a beautiful performance and octet Eclipse treated us to a selection of their repertoire, delighting our packed audience.

---
Save Sunday Music Christmas 2019
Sun, 8 Dec 2019
Our fourth but not final Christmas singout of 2019!
We entertained an enthusiastic and appreciative audience at the Roxbourne Park Cafe in Rayners Lane, with our festive repertoire. An enjoyable morning was had by us all and we look forward to returning in the future!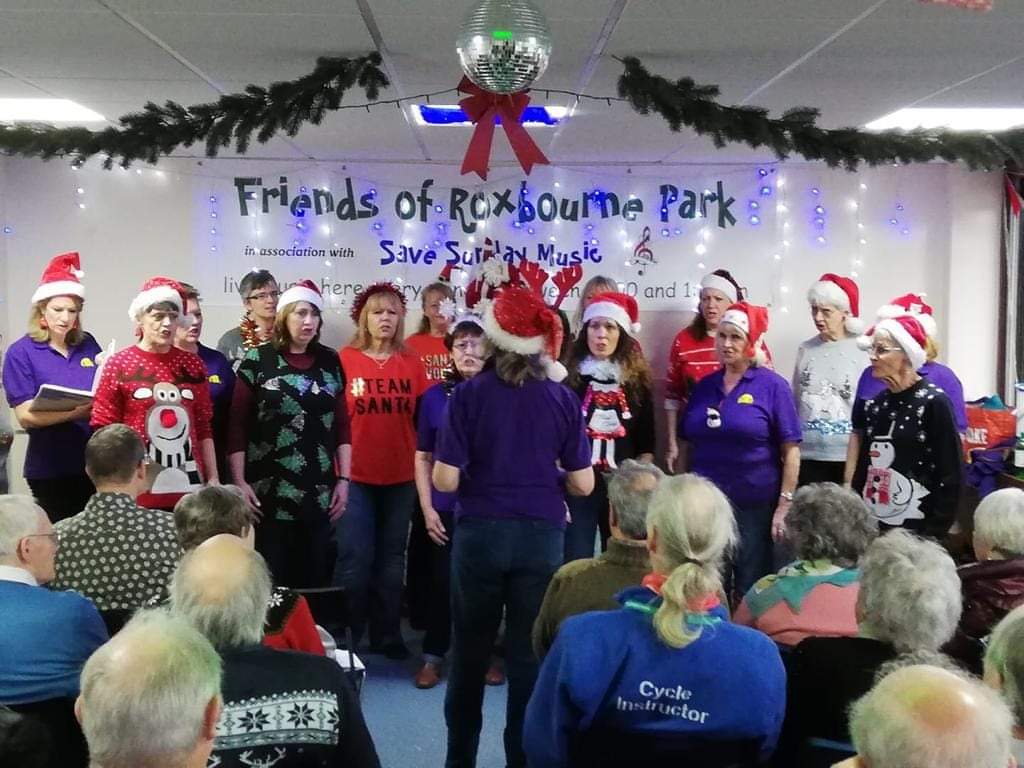 ---
Chiltern Concert Band Concert Christmas 2019
Sat, 7 Dec 2019
Capital Connection were delighted to be invited to perform at the Chiltern Concert Band's Chirstmas Concert, which took place at the St Francis of Assisi Church in High Wycombe. The Band, directed by the inspiring Duncan Stubbs, also put on a fantastic performance which was a pleasure for us to listen to.


---
Waitrose Christmas Evening 2019
Wed, 4 Dec 2019
A fun and relaxed singout at Waitrose, Ruislip, performing some seasonal songs to the customers at the store's Christmas evening and the first half of our weekly rehearsal. The Mayor of Hillingdon was also in attendance and enjoyed our performance too!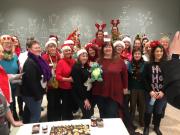 ---
Ideal Home Christmas Show 2019
Sun, 24 Nov 2019
An ideal day of Christmas singing and shopping at the Ideal Home Christmas Show at Olympia to get us all in the mood for the festive season.


---
Uxbridge Christmas Lighting Up 2019
Sat, 16 Nov 2019
The first of 2 singouts at Uxbridge Shopping Centre at their Christmas Market, and a prime performance slot before the Christmas lights were officially switched on. We gathered a great crowd of shoppers and enjoyed putting on our first Christmas performance of the season.

We also made sure to sample some of the food and drink on offer to keep our energy levels up. A cup of mulled wine always hits the spot at an outdoor performance!


---
Mall Galleries, London September 2019
Sat, 28 Sep 2019
A very unusual singout in the wonderful and inspiring Mall Galleries in Central London. Our task was to perform a selection of our repertoire whilst being sketched by visitors to the gallery as part of their Society of Women Artists 158th Exhibition.

When we weren't singing we also had an opportunity to enjoy looking aound the galleries to appreciate the fantastic artwork on display.